About Colin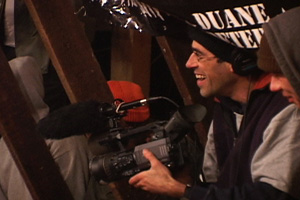 From 2006 till 2012, he was also the Director of Production and Programming at Mountain Lake PBS in Plattsburgh, NY where he supervised and executive produced three primetime regional series as well as stand-alone documentaries for national PBS distribution. Recent programs include "Small Farm Rising", "Cirque du Soleil: Flowers in the Desert", the fully animated "Dead Reckoning: Champlain in America" and "Forgotten War: The Struggle for North America".
Much of Colin's work has focused on sustainability – in business and in the environment. He serves on the Board of Directors of Bright Blue Ecomedia – an educational media non-profit which has produced 5 films on the ecology of Lake Champlain and Lake George, NY.  Headlamp Pictures first public television program "Beyond the Bottom Line: American Worker Cooperatives" explores models for business sustainability based on his earlier experience with cooperative workplaces.
Prior to filmmaking, Colin worked as General Manager and Manager of Research and Development at Burley Design Cooperative, a $10 million/year worker-owned bicycle factory in Eugene, Oregon.
Colin has a degree in Geography from the University of California at Berkeley.
See his LinkedIn Profile for most up-to-date information.
Director, Writer
Next Millenium Productions (2014-2015)
"Hippie Kid: What My Dad Would Want My Son to Know", interactive personal documentary.
Broadcast Producer
WNET New York Public Media (2013, 2014)
"American Graduate Day" – 7 hour live national PBS telecast for CPB's "American Graduate" initiative.
Managing Partner
Headlamp Pictures (2002- )
"Skatopia: 88 Acres of Anarchy" (2010)
"Beyond The Bottom Line: American Worker Cooperatives"  (2002)
Director of Production & Executive Producer
Mountain Lake PBS (2006-2012)
"Small Farm Rising"   2012,   Educational documentary, NETA distribution
"Race Car Driver/Teacher" 2011, Need to Know, shot & wrote segment for PBS public affairs program
"Cirque du Soleil: Flowers in the Desert"   2010,    PBS pledge program
"Dead Reckoning: Champlain In America"   2010, APT, animated edu. documentary, website
"Forgotten War: The Struggle for North America"   2009,     APT educational documentary, website
"Mountain Lake Journal"   2005-11,     Murrow Award-winning weekly public affairs program
"Mountain Lake Journal EXTRA"   2010-11      weekly coverage of art, culture and human interest
"Rustic Living"   2008-9     monthly home, design and lifestyle program
"Art Express"    2003-11,     Emmy Award-wining arts program covering NY, VT and Quebec
"Adirondack Outdoors"   2005-8,     outdoor program – education, conservation, & recreation
"Roadside Adventures"   2003-8,     monthly travelogue exploring people, places and events
"Holiday Spectacular"   2006-10,     yearly holiday programming featuring up to 600 performers
"Close to Home"    2007-10     live hosted pledge series built around regional and local productions
Board of Directors/Consulting Producer
Bright Blue EcoMedia (2010- )
"Lake Defenders: The Lake George Example"
"Bloom: The Plight of Lake Champlain" (2009 – 2012)
Producer/Editing
Whirlwind Creative (2013)
"Kohn, Pedersen, Fox – One Shenzhen Plaza" architectural program – China
"American Inst. of Architects – Hudson Yards" Interactive Exhibit
TED Conferences (2013) 
Editing: TED "Open Archive" project.
Field Producer / Interviewer
Seesaw Studios (2012-2013) 
JP Morgan Chase: "Leadership"
A&E Biography (2001-2005)
Will Smith
Will Rogers
Tim Robbins
Helena Bonham Carter
American Movie Classics (AMC) Backstory (2003-2004)
Romancing the Stone
Married to the Mob
Working Girl
Halloween
Silence of the Lambs
VH-1 Celebrity Fit Club (2005)
"Phil Margera"
Screenwriter
A&E Biography (1999 – 2002)
"James Dean: Outside the Lines"
"Henry Winkler: Hollywood's Coolest Character"
"Ricardo Montalban: Pride and Passion"
"Al Lewis: Forever Grandpa"
American Movie Classics Backstory (2000)
"All About Eve"
Associate Producer / Researcher
A&E Biography (1998 – 2000)
Staff position at Van Ness Films (Fox Television)
"Ron Howard: America's Favorite Son"
"Leslie Ann Warren: A Cinderella Story"
"William Holden: An Untamed Spirit"
"Kurt Russell: Hollywood's Heavy Hitter"
"Martha Raye: In Love and War"
"Peter O'Toole: Acting Out Loud"
"Shirley Maclaine: This Time Around"
"Ernest Borgnine: Hollywood's Uncommon Character"
"Diahann Carroll: No Strings"
"Julie Newmar: The Cat's Meow"