About Colin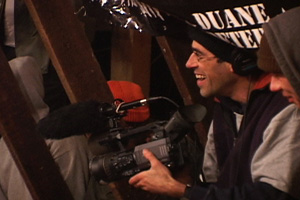 From 2006 till 2012, he was also the Director of Production and Programming at Mountain Lake PBS in Plattsburgh, NY where he supervised and executive produced three primetime regional series as well as stand-alone documentaries for national PBS distribution. Recent programs include "Small Farm Rising", "Cirque du Soleil: Flowers in the Desert", the fully animated "Dead Reckoning: Champlain in America" and "Forgotten War: The Struggle for North America".
Much of Colin's work has focused on sustainability – in business and in the environment. He serves on the Board of Directors of Bright Blue Ecomedia – an educational media non-profit which has produced 5 films on the ecology of Lake Champlain and Lake George, NY.  Headlamp Pictures first public television program "Beyond the Bottom Line: American Worker Cooperatives" explores models for business sustainability based on his earlier experience with cooperative workplaces.
Prior to filmmaking, Colin worked as General Manager and Manager of Research and Development at Burley Design Cooperative, a $10 million/year worker-owned bicycle factory in Eugene, Oregon.
Colin has a degree in Geography from the University of California at Berkeley.