Worker Coops
A dozen worker-owned companies that are changing the way America does business.
View Trailer, Watch Online or order the DVD below (if you don't see a green arrow saying "Rent" try viewing in a different browser):


BEYOND THE BOTTOM LINE is a 30 minute documentary about a little known twist on the American Dream – businesses in which workers own the stock, reap the profits and decide for themselves how the company runs.It is the story of worker-entrepreneurs in dozens of communities and nearly every kind of business… from manufacturing to health care to high tech. Some are tiny firms, while others employ hundreds and record millions of dollars in yearly revenues.
By giving the viewers a glimpse into the inner workings of these successful companies, BEYOND THE BOTTOM LINE shows American workers, entrepreneurs and business owners that viable, community-oriented businesses are within their grasp.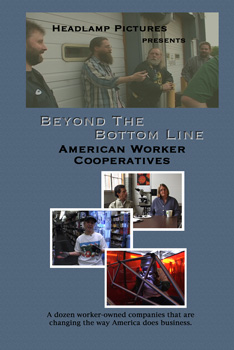 Filmed on location at the following businesses:
Alvarado Street Bakery
, Rohnert Park, CA
Beluga Software Cooperative
, Olympia, WA
Burley Design Cooperative
, Eugene, OR (Now privately owned.)
Chroma Technology Corp
, Brattleboro, VT
D'Aboy Career Horizons
, Olympia, WA
Good Vibrations/Open Enterprises
, San Francisco, CA (Now privately owned.)
Home Care Associates of Philadelphia
, Philadelphia, PA
Missing Link Bicycles
, Berkeley, CA
New Seattle Massage
, Seattle, WA
Port Townsend Shipwrights
, Port Townsend, WA
Rainbow Grocery
, San Francisco, CA
Restif Cleaning Service
, Arcata, CA
Sunshine Propane
, Port Townsend, WA
Union Cab
, Madison, WI
Special Thanks to the Center for Cooperatives at the
University of California at Davis