About Laurie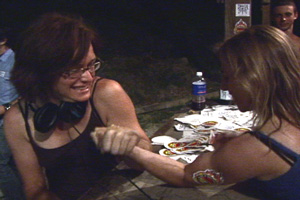 Laurie House has eighteen years of documentary filmmaking experience as producer, director, editor and writer. Her work has aired on A&E Biography, ESPN, Fox TV, American Movie Classics, MTV, ABC, NBC, PBS, The History Channel, Animal Planet, Outdoor Life Network, HGTV and has also shown in numerous festivals.
Laurie studied film at California Institute of the Arts in Los Angeles. After graduate school, Laurie co-founded Zero Hour, a video post-production facility in Hollywood, where she edited and post-produced a wide variety of work. She first discovered her love of documentary as an editor.
She shot, directed and edited the feature documentary "Skatopia: 88 Acres of Anarchy." about an infamous, hardcore skateboarding "commune" in Appalachia. She pulled from over 400 hours of footage to shape the story.
In 2010, Laurie cut an award-winning two hour PBS performance special about Cirque du Soleil's five Las Vegas Shows.
She is currently employed at TED Conferences in New York City.
Director/Writer/Editor
"TED Talks" TED Conferences, TED.com 2012 – Present
"Riveting talks by remarkable people, free to the world"
"Cholera and Newborn Care" Global Health Media Project 2012 – Present
Medical videos for healthcare workers in developing nations
"Race Car Science" Need to Know 2011
15 min documentary segment for weekly PBS public affairs program
"World of Hope" 2011
Five minute international fundraising segment for non-profit Habitat for Humanity
"Cirque du Soleil: Flowers in the Desert" 2010
Two hour PBS Performance Special won "Best Performance Show" award by National Educational Television Assoc (NETA) and "Best Documentary" award by NY State Broadcaster's Assoc.
"Skatopia: 88 Acres of Anarchy" 2006-2010
Director/Shooter/Editor
Verite feature documentary that follows a pro-skateboarder as he attempts to build a libertarian skateboard society in Appalachia. Lived on location for one year.
"Woman of Iron" 2002
Writer/Editor
One hour historical Documentary about Rebecca Lukens, owner of Lukens Steel in 1800s and one of America's first women CEOs. Produced by Nightingale Productions. Aired on PBS.
"Border Visions / Visiones Fronterizos" 2000
Director/Writer/Editor
One hour bilingual documentary about environmental problems along the US/Mexican border. Focuses intensely on several geographical areas and includes an historical perspective, the impact on local communities and bi-national efforts to address the issues. Produced by About Time Productions.
Aired on PBS.
"One Blood Planet" 1999
Producer
Dramatic horror feature directed by Jerry Decker Films.
Festival Tour.
"Paño Arte: Images From Inside" 1998
Writer/Editor
30 minute documentary about the Chicano folk art of drawing on handkerchiefs, an art form that originated in prisons as a means of communication. Produced by About Time Productions.
Aired on PBS.
Editor, Reality
"Journeys of the Heart" 2005
Editor
Reality Series for VOOM'S EQUATOR HD that follows five volunteers to an orphanage for deaf children in Peru.
Editor, Sports TV
X-GAMES 2001 – 2006
ESPN, ABC
NBA Finals 2005
ESPN Sportscenter
Great Outdoor Games 2003 – 2005
Outdoor Life Network (OLN)
PGA Tour 2003
ESPN Sportscenter, NBC
Editor, Documentary & Non-fiction TV
Pet Story, 2003
Animal Planet
HGTV, numerous shows 2002 – 2005
"Hollywood Rocks the Movies: The Early Years" 2000
2 Hour Special, American Movie Classics (AMC)
A&E Biography 1997-2000
Staff Editor at Van Ness Films (Fox Television)
"George C. Scott: Power and Glory"
"Ida Lupino: Through the Lens"
"Donna Reed: I'll Take the Moon"
"Anthony Quinn: A Lust for Life"
"Rex Harrison: The Man Who Would Be King"
"William Holden: An Untamed Spirit"
"Nicholas Cage: Wild at Heart"
"Doris Day: It's Magic"
"Roddy McDowell: Hollywood's Best Friend"
"Francis Farmer: Paradise Lost"
"Myrna Loy: A Class By Herself"
"BOOM" 1999
1 Hour Special, American Movie Classics (AMC)
"Beyond Titanic" 1998
2 Hour Special, American Movie Classics (AMC)
Director / Writer / Editor, Corporate
"The Future Of…" The University of Sciences in Philadelphia 2004-07 
Series of interactive DVDs on Medicare, Medicaid & Public Health
"Shaping the Science of Health" 2002 & 2004
Promotional Documentaries for the University of Sciences in Philadelphia
Owner, Post-Production Supervisor, Editor – Zero Hour Post
On and Off-Line Editing Facility in Hollywood. 1993-1997
Features, Documentaries, Industrials, Commercials, Music Videos (including Beck, Marilyn Manson, Sarah McLaughlin, John Spencer Blues Explosion, Moby, Jim Belushi)